Besta Board is a newly developed and up and coming GREEN material for DRY Construction. This material is a approved for use in USA, PRC, Canada, and many other countries for various applications.
Besta board's special characteristics are fire resistant & water resistant, mold resistant and high-impact strength. It therefore is very well suited for both interior and exterior walls & sheathing applications in construction.The Besta board manufacturing quality meets the ISO-1182 International Fireproof Material Quality Standard.
Magnesium oxide (MgO2) board, Trade Name as "Besta board" is a factory-made product. It is a type of relatively new inorganic-bonded composite. Its main mineral being Magnesium oxide (MgO2). MgO2 boards are produced with alkali-resistant fiberglass mess as strengthened material. Magnesium oxide (melting point of 2800°C) is often used as a basic refractory material for lining crucibles & furnaces.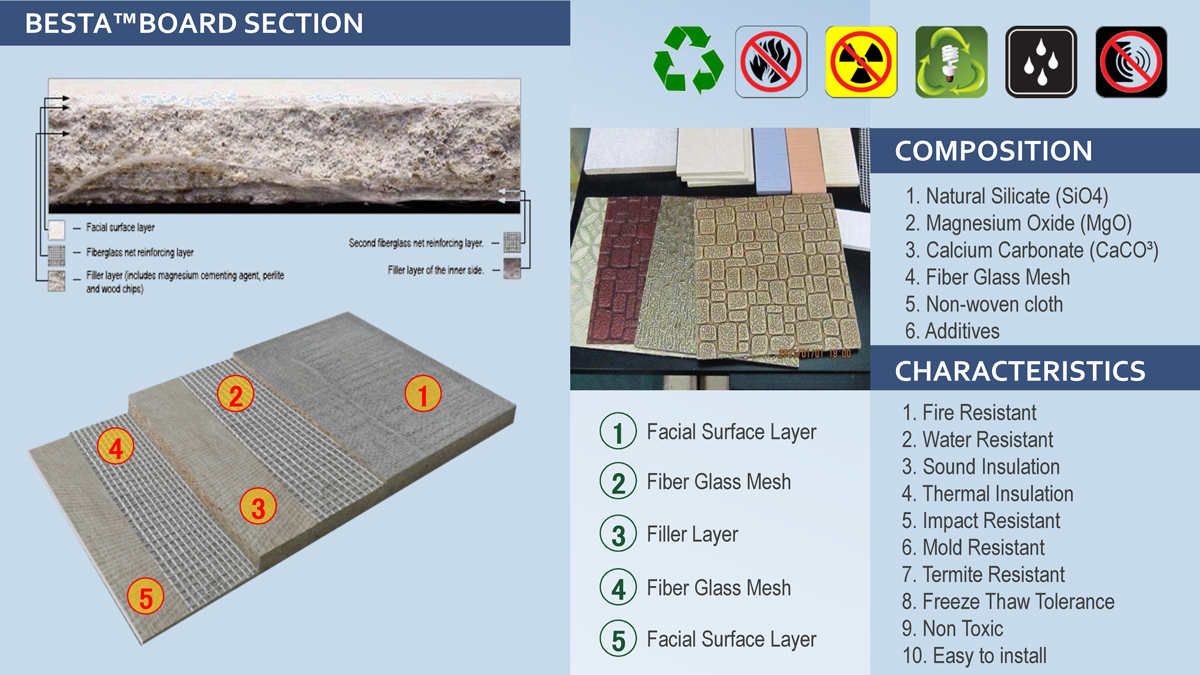 Besta fireproof boards have primarily been used as finishing materials to walls and ceilings in offices, shopping centre, private apartments, condominiums, airports, hotels, theaters, restaurants, private institutions, universities, schools, hospitals, sports complexes, stadiums, etc. Some patterned products have been selected and used as decorative boards.
Besta board comes as standard white colour. Standard production material is very smooth on one side and sand textured on the other. Besta Board complements all paint types, and may be wall papered or tiled with ease. Standard edges are squared or tapered. Special edges and sizes can be specified at the manufacturing process. Besta Board may be cut, trimmed or shaped using basic power or hand tools.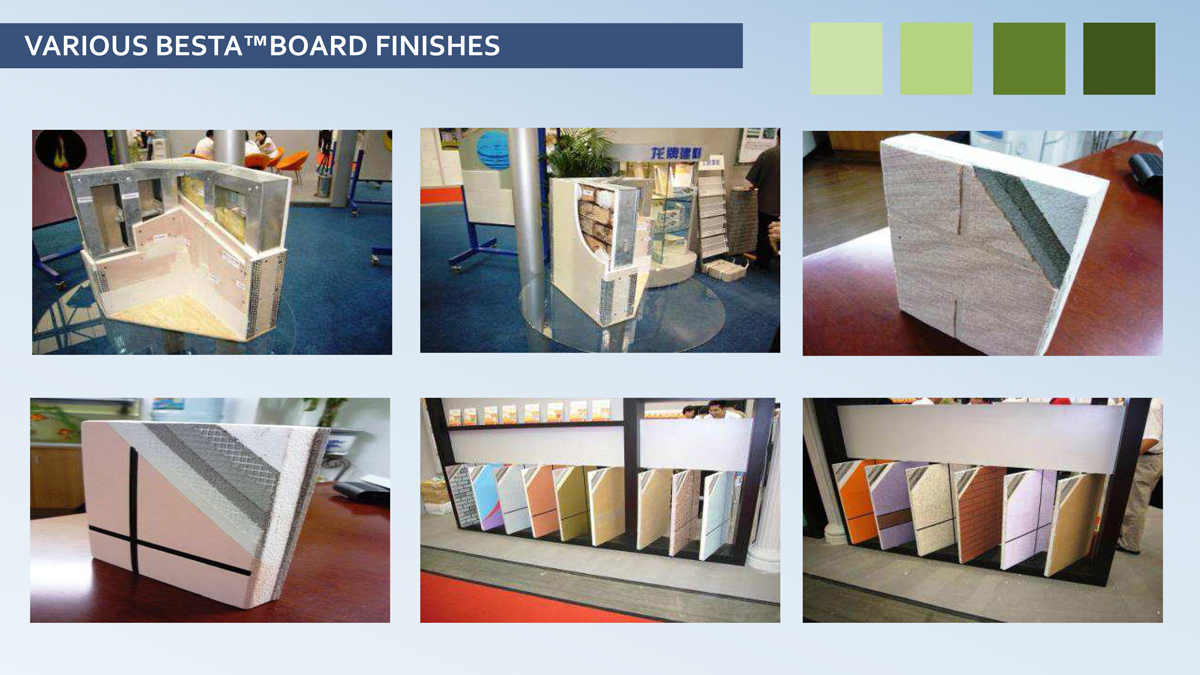 Besta Sandwich Panel is a kind of a new and superior non-combustible construction material with numerous application in commercial and residential projects of all kinds.
It is a kind of revolutionary product which changes the way of traditional drywall construction time, reduce 50% of the total weight, and save 30% – 40% of the total construction cost. It provides a hard, long-lasting surface that looks and feel like hard cement plastering but is fireproof and resistant to damage from water, humidity, freezing, organisms, chlorine, salt and more. Excellent material for fireproof and soundproofing applications. The ideal wall panel for pool buildings, garages kitchen and wet areas or any of the more demanding locations in buildings.
Besta Sandwich Panel is developed from the dry wall from the dry wall construction, it is made of the Besta Board at both faces. heat and sound insulation materials as infill, and tongue & groove as joint. It is a complete sandwich wall panel which can be used directly as the wall without any metal stud $ track, nor plastering. It moves the complex work easier and have more guarantee on the quality. Therefore, Besta Sandwich Panel is also a kind of prefab wall panel.