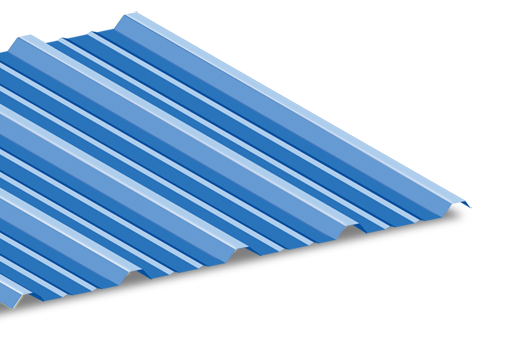 Longrun 750MM
Axtrada Longrun 750MM is the most popular primer quality profiled metal roofing and cladding sheets in Malaysia to date. A unique combination of efficient coverage and striking profile bring out the best in any building project. It offer economical as well as tattractive solition for roofing and wall cladding needs of commercial, industrial and residential applications.
It's excellent strength and ease of assembly allow for long economical spans leading to cost saving and any building project. It's special anti-capillary features along side-lap leading to a leak proof performance.
Strength
Most popular metal roofing profile.

Innovative, durable and cost effective.

Widely used for residential & commercial.
LONGRUN 750MM

Roof Pitch
The Minimum recommended roof pitch is 3º
For Color Coated Material
| | | | | | |
| --- | --- | --- | --- | --- | --- |
| Thinkness | Thinkness | Weight | Weight | Cover Width | Rib Height |
| BMT | TCT | (KG/M) | KG/M² | (MM) | (MM) |
| 0.23 | 0.32 | 1.909 | 2.51 | 750 | 25 |
| 0.26 | 0.30 | 2.136 | 2.8 | 750 | 25 |
| 0.30 | 0.35 | 2.545 | 3.34 | 750 | 25 |
| 0.38 | 0.42 | 3.18 | 4.18 | 750 | 25 |
| 0.42 | 0.48 | 3.4 | 4.47 | 750 | 25 |
| 0.48 | 0.53 | 3.78 | 4.97 | 750 | 25 |
For Aluzinc Material
| | | | | | |
| --- | --- | --- | --- | --- | --- |
| Thickness | Thickness | Weight     | Weight       | Cover Width | Rib Height |
| BMT | TCT | KG/M | KG/M² | MM | MM |
| 0.21 | 0.22 | 1.61 | 2.12 | 750 | 25 |
| 0.23 |  0.25 | 1.79 | 2.36 | 750 | 25 |
| 0.285 | 0.30 | 2.15 | 3.83 | 750 | 25 |
| 0.34 | 0.36 | 2.58 |  3.39 | 750 | 25 |
333