The Heart of AXTRADA
Corporate Font ;
Transit521 BT
Corporate Logo's
AXTRADA Alphabet "A" – Represent a symbol of AXTRADA Respect, Legendary, Luxury, Champion, Character, Strength, Challenging, Leadership, Wealthy, Perfection & Independently.
AXTRADA Stripe Sky Blue – Represent a symbol of AXTRADA Families, Love, Spiritual, Healthy, Unity, Cooperate, Sharing, Contribution, Opportunities, Treasures, Goals, Achievement & Wealthy.
Corporate Color's
AXTRADA ROYAL BLUE – Represents meanings of AXTRADA Depth, Trust, Loyalty, Love, Sincerity, Wisdom, Confidence, Stability, Faith, Heaven, & Intelligence.
AXTRADA SKY BLUE – Represent meanings of AXTRADA Freedom, Responsibility, Helpful, Peace, Relaxation, Calmness, Blessing, & Orders.
AXTRADA WHITE – Represent Light, Goodness, Heaven, Safety, Brilliance, Illumination, Understanding, Cleanliness, Faith, Beginnings, Sterility, Spirituality, Possibility, Humility, Sincerity, Protection, Softness, & Perfection.
Corporate Company Name
"AXTRADA" – A symbol of Solid, Firm, Equally, Exploring, Creative, Opportunities, Challenging, Treasuring & FREEDOM!
---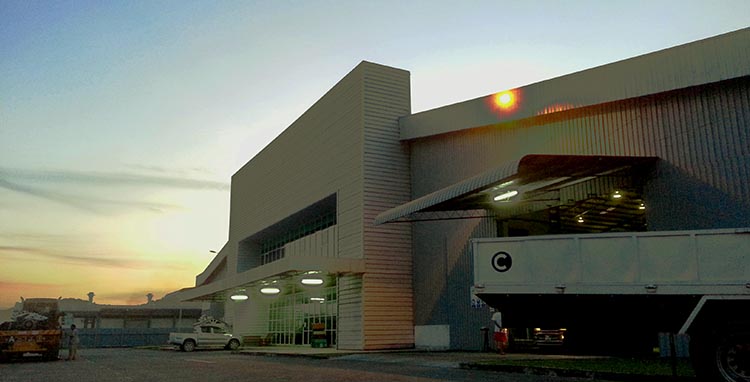 The AXTRADA company founder by Tang Hun Kia and Ooi Hong Wee on dated 08TH October 2006.
AXTRADA (MALAYSIA) SDN BHD was incorporated in the year 19TH October 2006 started from a "Zero" level with pioneer's 5 Key Mans as a small trading company of construction building materials.
Throughout AXTRADA group's a business opportunities ideals, concept & strategies, a very good reflection results and getting most warmest supportive by the domestic and oversea customers in the year of 2010 has further strengthened the foundation of AXTRADAand set the path to achieve took over Cooldec Industries Sdn Bhd in the year 1st October 2010. AXTRADA as a trading firm has successfully growth and expansion into manufacturer steel industrial Supplied, Design & Built of Metal Roofing, Trusses, Metal Door & Window frame with all kind of qualities Building Materials.
Under the unique name of AXTRADA, the company has established itself as one of the leading industrial in the field of building products with 2 majors manufacturing and building materials supplies plants located at East Malaysia. The AXTRADA group has weathered the economy fluctuate or storm successfully and continues to record an impressive profit achievement and capital growth. The average AXTRADA turnover growth of the groups was about 15% and to be gradually growth and expansion in the coming years.
The achievement goals of the heart AXTRADA were built on the company's for continuous improvement qualities on "Trusted, Unity, Cooperation, Opportunities, Treasured & Commitment" direct to customer exact needs.
AXTRADA MISSION
Our ideals, concepts and strategies starts with our mission, which is enduring. It declares our purpose as a company and serves as the standard against which we weigh our actions and decisions.To create values and make a difference advance innovative and quality products with a competitive cost to meet our new generation requirements.
AXTRADA VISION
Our vision serves as the framework for our ideals, concept and strategies on every aspect of our business by describing what we need to accomplish in order to continue achieving sustainable, quality growth and expansion opportunity.
OPPORTUNITY
– Be a great place to work and to create more opportunities to the people needs and exploring knowledge.
PORTFOLIO
– Road to Asia countries as a Malaysian portfolio of well know quality brands that satisfy construction industries desires and needs.
PARTNER
– Growth and winning network of customers and suppliers, together we gain opportunity and mutual, enduring value.
PROFIT
– Maximize long-term return to business partners and groups while being mindful of our overall responsibilities.
PRODUCTIVITY
– Be a highly effective, lean and fast-moving organization
RESPECT
– To be a successful historical value of life's respect in the field.
---
QUALITY MANAGEMENT SYSTEM
SCOPE OF CERTIFICATION :
DESIGN, MANUFACTURE AND SALES OF METAL ROOF, TRUSS, TOP HAT, WINDOW FRAME AND DOOR FRAME